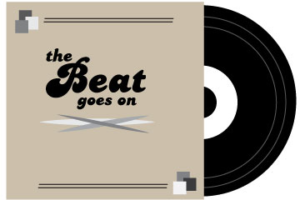 So I am sitting at my desk working when Sonny and Cher's The Beat Goes On comes on Pandora. Cool… And as music has a way of doing, I am instantly launched back in time to the early 70's, for me a simpler time. If I remember correctly, The Sonny and Cher Comedy Hour was an attempt by CBS to gain back some of the young audience it had lost when the very popular "The Smothers Brothers" was cancelled by network execs nervous about Tom and Dick's political views. Not simple for CBS. But wonderfully simple for a young Rick who enjoyed sitting on the family room floor in front of a "portable" 19-inch color TV (that weighed about 200 pounds) being carried away by the music, the skits, and listening to Cher bash Sonny (even if I didn't "get" it all).
But the beat goes on… For husband Sonny and wife Cher, the show stopped after about three seasons because they could not get along with each other. They each did their own thing for a couple of years, Cher with more visible success than Sonny. They then came together to do a very similar series in 1976 that lasted about a season. Sonny and Cher were divorced by then. And Cher was with Greg Allman by that time, which likely didn't help things any. The ratings were still very good, and so was the show, but they couldn't make it work.
We humans are like that—and life can be complicated. Sonny's certainly was. He was married three other times (besides his marriage to Cher). Three of his marriages produced children. And while he was married to Cher, Sonny had an affair with Mimi Machu. Mimi gave birth to a son named Sean and listed Sonny as the father on Sean's birth certificate. (It turns out this was not Sonny's son.) Sonny became mayor of Palm Springs, where he served until he was elected to Congress.
Then Sonny died in a skiing accident in 1998 near Lake Tahoe. Sonny's death left behind a widow (Mary Bono) with two young children, as well as two other adult children. And a vacant Congressional seat (California's 44th) which Sonny had held for about 4 years. Like 80% of the population, what Sonny did not leave behind was an estate plan. He left behind no trust, no will, nor other plan of any sort. After Sonny's death, Sean filed a petition to be recognized as Sonny's heir-at-law. The court ordered DNA testing, which must have proved that Sean was not Sonny's child because when the estate was distributed it was divided among Sonny's widow and his four children. Had Sean been able to establish himself as Sonny's son, he would have been entitled to a share of the estate equal to that of Sonny's other children.
Even though it was found that Sean was not Sonny's son, this came at considerable expense to Sonny's heirs and, I am sure, no small amount of delay and emotional grief. And while some the procedures and machinations in the process would have been a little different here in North Carolina (they were in California), the outcome would have been the same. As is true for what happened next. Sonny's widow Mary got 1/3 (yes, ONLY 1/3) of the estate (after substantial legal fees and expenses). The other 2/3 were split four ways, between Sonny's four children. Two of the four children (Chesare and Chianna) were the under-age children of his widow, and Sonny probably would have preferred their shares go to their mother (his widow) for their care. But it doesn't really matter what he would have preferred. They received full shares that are held in court-supervised accounts until they turn 18.
Maybe you have never had a variety show on TV- or been elected to Congress. More importantly, maybe you don't ski. And maybe your life is not as complicated as that of Sonny Bono. But for all of us, the beat goes on.  The mere fact that your life is complicated does not itself mean you need a complicated estate plan.
But if your life is complicated AND you do nothing, the people you leave behind will pay the price.  So if you have been married more than once, if you have had children with more than one person, or if there is a significant-other in your life to whom you are not married, you owe it to yourself and to them to consult with an estate planning attorney, decide how you want to provide for them, and put the appropriate plan in place. At Sorrell Law Firm, we offer our clients peace of mind by providing them with sophisticated solutions with a personal touch. We are here for you and welcome the opportunity to be of service.
https://www.sorrelllawfirm.com/wp-content/uploads/2017/06/Sorrell-Law-Logo_Final-smaller-300x44.png
0
0
Rick Sorrell
https://www.sorrelllawfirm.com/wp-content/uploads/2017/06/Sorrell-Law-Logo_Final-smaller-300x44.png
Rick Sorrell
2014-07-19 17:54:40
2017-06-12 23:41:57
I Don't Think I Can Call This "The Beat Goes On" Because of the Copyright Thing...