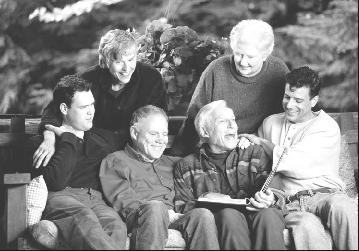 You wouldn't go to your dentist if you were having a heart attack—
You wouldn't buy auto insurance from your mechanic—
Or ask the guy who mows your yard to fix your computer—
So why trust your family's future to a jack-of-all-trades lawyer—or worse yet—NON-lawyer?
At Sorrell Law Firm we know all kinds of law— but we work on one thing: Helping our clients Plan, Preserve, and Pass-On what is theirs.  Whether it is through business planning (to protect and preserve your business), estate planning for your family's future, or helping our older clients and their caregivers, at Sorrell Law Firm we provide solutions from simple to sophisticated— in a relaxed environment, at an affordable price, and with the personal touch you and your family deserve.
So if someone dropped a piano on your dog or you want to sue your neighbor for keeping elephants, we can probably point you to a good attorney.  But if you want to plan for the future, so that you and your family can have peace of mind knowing you are prepared for whatever lies ahead, call us today.  Sorrell Law Firm—we help our clients plan, preserve, and pass-on what they have worked hard to have, to the people they love and cherish.  Let's work to together to find solutions for you and your family– Sorrell Law Firm—we are here for you.
More About What We Do
At Sorrell  Law Firm, we work directly with our business clients on planning issues, including transactional and regulatory matters, employment arrangements, tax concerns, the protection of personal assets, and daily operational concerns.  Our clients benefit not only from legal expertise, but from the knowledge and common sense that comes from real-world experience in several business areas.  Perhaps most importantly, our clients benefit from the personalized attention and customized solutions we are able to provide due to our background and innovative model for delivery of legal services.
Through Estate Planning and Asset Preservation, we deal with all aspects of wealth preservation and transfer in a highly-personalized manner.  Generally, this involves a focus on creating and implementing efficient structures tailored to the needs, desires, and concerns of our clients; with the goal of maximizing protection of assets and minimizing expenses and risks as these assets are ultimately passed on to family members, loved ones, or charitable beneficiaries.
When needed, we also work with families in the process of Trust and Estate Administration (including Probate) after the loss of a loved one.  Due to the complexity of the law in this area, as well as the numerous traps and pitfalls, it is often critical for fiduciaries to retain counsel.  Proper representation can reduce the potential for costly mistakes and prohibitive settlement costs.  Along the same lines, family members involved in the guardianship process or other disability planning often benefit from having the protection of an advisor to help protect and maximize estate assets and to help protect themselves from liability.
We believe that the practice of law has fundamentally changed and that a new type of firm is necessary to best serve clients.  It is our model to provide optimal and personalized legal services to our clients in an affordable manner.  By keeping our overhead low and eliminating the need to pay a lot of people that are not working on a client's matter, we are able to offer many services for flat (fixed) fees and to offer other alternative billing arrangements.  Not only that, but having no mandated billable hours means we can gladly travel to our client's business or home if that is the best way to serve their needs.
Although we are located in Concord, we are pleased to offer our clients throughout not only Cabarrus County but the entire Charlotte-area sophisticated solutions with a personal touch.  We would truly appreciate the opportunity to be of service to you!
Start With Trust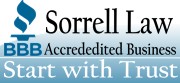 Sorrell Law Firm is pleased to announce that we are accredited by the Better Business Bureau of the Southern Piedmont/Greater Charlotte, who has given us an "A+" rating.  We believe that this is a further demonstration of our client-focused practice and our commitment to our clients' satisfaction.  The Better Business Bureau encourages consumers to "Start With Trust".  Trust is key in the lawyer-client relationship, and we hope that this will encourage our existing and future clients to feel that they can trust that Sorrell Law Firm will look out for them and help them to achieve their goals.